Prime Contact
Joules Taylor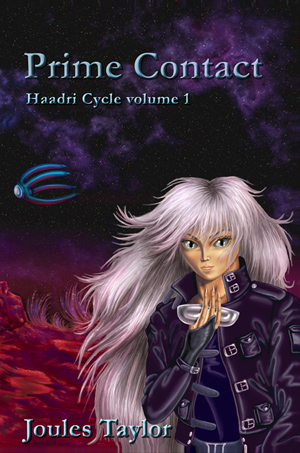 Published by Heartsown
Publication date October 2009 (2nd ed)
Paperback
448 pages
Haadri cycle - volume 1



It's a rare Fohmatraan who leaves their homeworld — much to the Collective's dismay, since Fohmatraans are the finest telepaths in the galaxy. So when Kazestrel ventures offworld, heading for the Central Worlds and a career with Collective's First Contact team, he's assured of an unconditionally wholehearted reception, a secure post, and a very comfortable life.

Unfortunately, in a galaxy as unpredictable and full of life as Haadri, things are not always that simple...

Prime Contact tells the first part of Kazestrel's voyage of discovery — and self-discovery — across Haadri. Official meetings (and the occasional, inevitable amorous ones), with memorable and colourful characters, missions to exotic and often dangerous worlds, and inter-planetary intrigues are all part of a Mediator's normal work — until Kaz arrives on Heart and becomes personally involved...

An anthology of short stories in the same continuum was published as Missions.

---
Text &copy Ken Taylor 2009 - 2013