Site Report for the 2009 Excavation at 159 Sandholme Road Brislington Bristol
Ken Taylor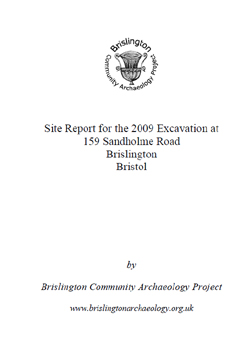 Published by Brislington Community Archaeology Project
Publication date April 2010
Booklet 298x209mm
Illustrated with colour photographs, and maps
20 pages
This was the first excavation by the Brislington Community Archaeology Project. The test pit lacked any useful stratigraphy but produced a variety of finds ranging from the Early Bronze Age (a flint tool hollow scraper), through the phase when the site was part of the Broomwell House estate (1760s to 1923), to modern builder's rubble.


Contents include...
Introduction
Site location
Historical background
Previous work on the site
Methodology
Finds
Interpretation of the excavation
Conclusion
Proposals for future work
Ideas for improving methodology
Appendix (finds)
Bibliography
---
This book is available to buy at Verbank Library

Information about Verbank Library here.
---
Text &copy Ken Taylor 2012 - 2013