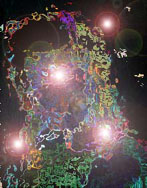 791.
I'd been dreading this episode ever since I saw that blasted visual spoiler on Lexx Links.
And as the episode opened, and I saw it was another take on Alien, I groaned inwardly - not because there's anything wrong with that (hell, everyone does a take of Alien, it's almost a rite of passage for the sci-fi fraternity, these days), but because, going by Lexx' previous record, it could all be so horribly, horribly bad
I tried very hard not to expect the worst, I really did..... But a short way into it (I think it was around when Kai opened the first egg and that cute little face appeared) it occurred to me that I was actually enjoying the episode.
It was clever, and it was complex. It took the basic, recognisable elements of Alien and reversed them... then reversed them back just in time to add another twist to the plot. Instead of the dead alien pilot (who, if I remember correctly, was a humanoid/machine hybrid and part of his ship), a headless cyborg (also a humanoid/machine hybrid, with a difference!). Instead of face-huggers in the eggs, humans - who were, nevertheless, 'perfect' warriors like the adult aliens. And instead of little Newt, an equally sweet looking girl - who turns out to be a cold, unemotional killer....
Let's consider the individual elements. Firstly, the cyborg. The fact that he was strapped into his seat (at the wrists) should have rung warning bells in 790's head - unfortunately, his eagerness to acquire a body overrode his caution (honestly, would you trust a robot head who doesn't even take the simplest safety precautions? I wouldn't...). That the cyborg should turn out to be only interested in men came as no great surprise to me - it's always seemed to me that guys who put a huge amount of effort into looking like overmuscled hulks do so to impress and attract other men, not women. (Of course, if you have that kind of physique naturally - or if you throw 'rangs - obviously this doesn't apply to you.) But the sheer chilling nastiness of the cyborg's face and voice, and it's implacable, inexorable pursuit of Stan, were thoroughly nightmarish - as were the remains of the crew.....
I was surprised - and pleased - that 790 + body turned out to be a gentleman: it was a definite improvement on his usual demeanour. However, I also have to confess I felt a distinctly malicious satisfaction at his horrified embarrassment when the host body reverted to its natural urges, especially since his situation was self-inflicted. But that's purely my opinion and only because I don't like the robot head.....
Poor Stanley. Are the universes (or the Beans) ever going to be nice to him? He doesn't even struggle very hard any more - it's almost as though he expects to get shafted (pun intended) every time anything goes wrong (i.e. all the time). I suppose it's because even when he does try to take positive action, it always fails (yes, I'm sure that little scene with the harpoon and the cyborg - now there's an intriguing title for a song! -was supposed to be amusing, but I just found it terribly sad: Stan at his most ineffectual. But he does try, really he does....).
I was quite impressed that Xev, despite her overwrought and by now hugely frustrated libido, and being faced with the kind of body she prefers, and some quite charming sweet-talk from the head she carries everywhere with her atop such a body, resists temptation in order to go back to help with the prisoners. It's ironic that they turn out to be lethal killers. But then, just imagine what could have happened if the cyborg had resurfaced whilst she and 790 were getting it together! 'Fate worse than death' ain't in it.....
Interesting method the original crew used to ensure their prisoners stayed put. There's something compellingly gruesome about the thought of being made to watch while your heart is removed. The question is, how does the viewer feel about it? First of all it appeared that the prisoners were innocents: only later do we find out they are real criminals (according to some ethical standards, anyway). So is the idea of heart-removal more horrible when you think the victims are innocent? Does it feel more deserved if the recipients are guilty? (I'd be interested to know what other people think.) Of course, there are clear parallels between the female warrior and Kai: as an assassin he killed to live and lived to kill. (OK - I know he's dead. You know what I mean!) It's a pity there wasn't time to explore his thoughts and reactions to their similarity.
As for Kai himself - the dead can't do comedy, it simply doesn't work. But there was definitely some kind of feeling in his interactions with the prisoners, especially the female: his behaviour towards her was almost chivalrous....
I've been trying to work out how much protein Lyekka needs to eat before she's satisfied. In Lyekka, it was three fully-grown men. She ate Paw in White Trash, but he obviously wasn't enough, because she's awake and hungry again in 791. She ate at least one prisoner while he was still trapped, and the female warrior while she was in the moth (did Lyekka fly it back down to the planet? When did she learn that skill? Or is Windlily right and the moths are capable of independent action - in which case why didn't it just fly home? Hmmm...), but did she also eat another of the prisoners? Or should we assume three adults at any one feed will keep her going for a while? (It's an idle speculation. I don't actually care all that much: Lyekka's terrific regardless of her feeding habits - which are actually a lot tidier than some people I could name!)
So - 791 as a whole. Minor contradictions and some slightly awkward dialogue aside, I loved it - although the emphasis is entirely different, this episode is on a par with Stan's Trial. It's a wonderfully eclectic mix of elements culled from (amongst others) Edgar Allan Poe, Alien, and Frankenstein movies, homogenised into one eccentric whole. If I had more time I'd trawl through movie lists identifying films that have resonances with this episode: if I ever do find a spare day I may very well do so anyway, but in the meantime, if anyone spotted references to other movies, please do email me and I'll list them in 'Doing Lunch II' in Lexxplorations.
Cogitations and Meanderings
We have a crew that consists of a robot that acts like a human, a dead man who acts like a robot, a reconstituted Cluster Lizard/Love Slave hybrid, a carnivorous plant that looks like a human, and Stan. All living in a giant insect. If this were real life we'd be calling for the men in white coats. Or possibly the men in black....
It looked to me as though Stan's clothes and pressure suit were ripped off. Where did the replacement come from?
Why does Kai keep introducing himself as "the last of the Brunnen-G"? We know he is, but would the term mean anything to anyone else? After all, the Brunnen-G were destroyed over 2000 years ago. Is he trying to reinforce his status to himself? Is he hoping for some kind of recognition from the people to whom he speaks?
And speaking of the dead guy, there's a curious similarity between his physical appearance and that of Siva, the ascetic Hindu god who destroys illusions. (Does this mean that the Brunnen-G - well, a race that looked like them, anyway! - visited Terra in the distant past? If I can find a decent picture I'll try and include it in a later Analysis....)
I may have missed something, but I can't work out how the prisoners could have reprogrammed the cyborg from their 'cells'. And why didn't they order him to return their hearts? And who fastened his restraints?
791 is a lesson in expecting the unexpected - and taking nothing for granted...



&copy 1999 Joules Taylor.
---
Lexxplorations