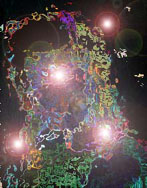 Lyekka
Ahhhhhhhhhh......... That's better.
I came to this episode in fear and trepidation right after the first UK Cluster Convention (and what a weekend that was!) afraid that I'd be disappointed - again.
Instead, I watched an episode that (allowing for the condensed series format) was back to the standard I'd become used to in the pilot films. Original, wonderfully bizarre, and with a genuinely interesting new character - the ambulatory Venus FlyTrap known as Lyekka. She's scary, too - her giggling as she snares and kills her prey is enough to raise a shiver. And yet she isn't evil, just trying to survive as best she knows how. And she has a conscience, of sorts: there's something very touching about the way she doesn't want to hurt Stan. (It's strange. As I watched her, I kept hearing "Like a virgin (touched for the very first time)" in my head!) Is she the promised Wist-figure? She certainly has many of Wist's characteristics. If she is the new Wist, I'm very pleasantly surprised. I'd always half-expected to dislike her, as I disliked the original, but Lyekka is entirely convincing - and very, very sweet! I hope she stays on board for a loooong time...
I really wish I could say the same about Xev. Yes, I know beauty is very much a subjective thing, but I'm afraid I find Xev extremely unattractive. Zev was truly beautiful: Xev looks deformed (I think it's the mouth. Why anyone would want silicon injections (or have I been misinformed about Xenia?) to give themselves lips that look like a replacement for a flat tyre is beyond me...). It will be interesting to see how the character develops, since not only is she now part Cluster Lizard and reconstituted love slave, but she also has elements of Captain Moss (well, his protein, anyway). A strange and, hopefully, volatile mixture...
And Stan himself - poor, bullied, down-trodden Stan......... I can't help but hope that the real Lyekka came to an unpleasant end, the nasty woman. And Stan is learning as the series progresses, too - instead of trying to deal with Lyekka himself, he turns to Kai. (Yes, OK, in this instance the last of the Brunnen-G isn't a whole lot of help, but at least Stan admitted he couldn't cope by himself. It's a good start. He also didn't reveal all the Lexx' details the minute the Potatoheads asked, either........)
On that subject, the casting for the Eagle 5 crew was inspired! Thoroughly chortle-worthy - and believable. I actually felt sorry for the Captain and Science Officer (the first guy was a prat and deserved his fate - but he did it so well....). And the entire 'ion-veil' scenario was a lovely burlesque of all those old (and not-so-old) moonshot films. Oh, well done indeed, people!!
And Kai did something more than stand and look grim! It was good to see him taking independent action again. I haven't finished working out his moral and ethical reasoning yet, but it's intriguing, and I'll come back to it later (maybe)......
Unfortunately, 790 is really beginning to irritate me, although even I must admit that some of his lines of 'poetry' in Lyekka were amusing...... It's just a pity that so far he hasn't had much of an opportunity to develop. Maybe that will come later. I hope so, anyway.
Of course, in a series I'd expect some episodes to be more enjoyable than others, so it may be that Lyekka is one of the high points. Alternatively, there may be even tastier treats in store! But at least now I'm happy to tackle the forthcoming episodes, knowing that the first two weren't entirely representative of the whole.
In case you haven't been paying attention, I really enjoyed this episode! Good plot, excellent casting (well, mostly.......), a beautiful balance between the comic and the chilling, great character development........ the things I dislike about Lyekka are easily outweighed by the strength of the film as a whole.
My apologies if this analysis lacks sparkle. The combination of even less sleep than usual, good food, good drink, great music and truly wonderful company (see Cluster Con) has left me just a little tired... More Cogitations and Meanderings next week.
(Now, where the hell did I leave that cryo-pod........)
&copy 1999 WordWrights.
---