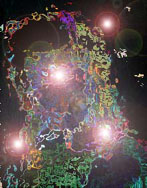 Patches in the Sky
A dark and decidedly chilling episode, a lyrical exploration of doom and hopelessness, and the power and seduction of dreams......
I thoroughly enjoyed Patches in the Sky. The characterisation was great, and although the idea has been done before (Dreamscape, SleepWalkers (a favourite of mine. It sometimes annoys me that series' I particularly like don't get the ratings necessary to keep them in production. I'm obviously not sufficiently mainstream.....), even V.R.5 to some extent), it was well performed and directed, with a strange, off-kilter and slightly frightening ambience (which doesn't really describe what I'm trying to say, but at the moment I can't think of another way to put it.... There was suspense (in that the universe is 'disappearing', rather than Stan's experiences in his dreams), and a cool fatalism that I found extremely gripping.... Ach.... Well, it's not often I'm lost for words....!!)


... I keep coming back to that 'disappearing' universe. It's a truly terrifying concept - an inexorable destruction, a horrifying negation, made worse by the fact that it's not a natural event, but the ultimate revenge of the Insect Civilisation on the continuum that brought forth (well, was the home of, at any rate) the human race. Bigotry, xenophobia and fanaticism taken to the ultimate extreme. And with the number of the Mantrid drones increasing exponentially (xgoogol?) there is absolutely nothing anybody can do about it......
And it's made more poignant and effective by the Lexx crew carrying on as normal: Stan still trying to fulfil his lusts, Xev still fighting her libido, Kai still dead.....
In tone, and in the shape of the Narco-Lounger itself, Patches in the Sky had strong resonances of The Quiet Earth (an extraordinary and thoroughly chilling film from New Zealand that shocked me back to sobriety (from the drunken haze in which I started watching it) some years back. If you haven't seen it, and you like your sci-fi dark, startling and desert-dry witty, get hold of a copy - and watch it... late at night.... by yourself.....)
Marvellous stuff. This is how I like my Lexx. This - finally - lives up to the hype.



Cogitations and Meanderings...
It was wonderful to see Giggerota again! And in such good form!
The actual dreamscapes were perhaps a little disappointing, especially Stan's initial kaleidoscope of colourful images - although later, when he's confronted by Giggerota, his dream becomes altogether more interesting (and I'm sure I'm not alone in finding the thought of falling forever through the void very appealing.....) Fruitcake's dream was odd. I can only assume that he was caught at the height of a static moment of exultation and ecstasy - certainly not an unpleasant way to go!
It's nice to see Xev beginning to become tired of 790's continual carping about Stan.....
The crew seem somewhat untroubled about Mantrid and his threats. They are human, which means they're on his hit-list. But no-one seems to want to do anything about it....
Will Mantrid and his drones really eat the entire Light Universe? Are our anti-heroes about to have to find their way back to the Dark Zone? And will Mantrid be able to follow them?


&copy 1999 WordWrights.
---