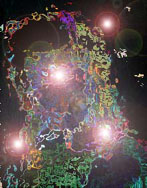 Woz
A beautifully balanced debate about beauty - and ugliness. This episode explores stereotypes, manipulation, and the use and abuse of the trust and faith of others in order to fulfil one's own aims. And it does it with style!

[Please note: the use of the terms "beautiful", "attractive", "unattractive" and "ugly" are used here in the way they are used in Lexx - as generally accepted stereotypes - and do not necessarily reflect my personal definitions of the concepts.]


Beauty:
What exactly is beauty? Can a physically attractive person be beautiful if they have a mean-spirited, spiteful nature? Can a physically unattractive person be ugly if they have a beautiful, compassionate nature? Does being made to look beautiful automatically give a person a sweeter and more beautiful nature (it doesn't seem to have worked too well with Xev...)?
And who defines physical attractiveness? (Obviously, in Lexx it's the writers...) I thought the ideal of the blue-eyed blond(e) with the white skin, white grin, symmetrical face and well-honed body went out with the Third Reich! No doubt the sales of blond(e) hair colorant, health-club memberships, and the huge profits of dental and cosmetic surgeons would prove me wrong. Ah well... And I'm not even going to attempt to consider the elusive quality of "sexiness"..!
Of course, there is often a big difference between being physically attractive, and feeling self-confident and happy within your own skin. Physical 'beauty' seems to require an awful lot of hard work, for one thing! (And if my old workmates are any gauge, it also involved a lot of vanity, insecurity and plain bitchiness (my apologies to female canines for the slur).) Still, that was a long time ago - maybe things are different now...
But what if you are both physically unattractive and unhappy about it, as the original Zev was seen to be? Zev/Xev enjoyed being perceived as beautiful, and to have the love-slave process reversed is therefore a kind of GBH - not to mention a contravention of human rights (I'll avoid the temptation to slide into a monologue about the so-called "rights" of the human race...!!), criminal damage and outright male cruelty, and all this from a self-professed "benefactor" of women. I'm still amazed, sometimes, at the way some people justify the vilest actions by claiming "it's for your own good" (or that old lie, "the devil made me do it....") Of course, it helps if the doer is quite blind to the underlying reasons for his/her behaviour...

Manipulation:
Ah, the tales I could tell...!
Manipulation is insidious and nasty - yet everyone does it to a greater or lesser degree. I suppose, generally speaking, unconscious manipulation is forgivable: conscious manipulation, however, is another matter entirely (which comment gives you a fair idea of how I feel about commercial advertising...)
Yet the episode itself is an example of manipulation, setting out from the beginning to portray the Dark Lady as the "baddie" and the Wozard as the "goodie". (I have to add that, since this is Lexx, I expected there to be some twist or catch, and I suspected it was the Wozard - if only because such male fanatics usually have some sort of ulterior motive. But the plot wouldn't have worked so well if the Wozard had been female and the Dark one male.) The beauty of it was that they both came out of the episode painted in shades of grey - the Dark Lady for placing perhaps a little too much emphasis on physical attractiveness and not enough on inner beauty (of which she had plenty, to unselfishly allow others to gain what she could not); and, in rather darker shades of thunder, the Wozard as a sad, embittered and (most of all) mistaken man. Not that that means I'd forgive him for forcing his ideas on others, of course....
Cogitations and Meanderings....
There's something quite horrible about the thought of the Divine Order's love-slaves having an expiry date. Not only are they nothing more than objects to serve the men for whom they are intended, but they are also completely expendable, to be thrown away without a second thought once they've outlived the "usefulness" that someone else has decreed for them. I'd say that comes close to ultimate degradation...
In each of the original films, Kai had at least one scene where he was allowed to show some feeling or emotion. In the series, with just a couple of notable exceptions, he could be replaced with a marionette and it would be difficult to tell the difference. It's sad and frustrating. I just hope there's a valid reason for it (and just being dead isn't good enough.)
If this episode is anything to go by, Lexx is becoming darker and stronger in tone, and the characters are beginning to pull together, instead of against each other. I thoroughly enjoyed it. Woz is another thought-provoking, extremely well-directed and intelligent episode, with plenty of action and real suspense. More, please...
---
&copy 1999 WordWrights.