Lovestory
Renaissance
(For Cenydd.)
Wakeful in the midnight hours
A strange restlessness possesses me,
And thoughts from every waking hour
Are peeled away, layer by layer,
Within my skipping mind,
Frustration on frustration winding clockwise
While counted blessings soothe the troubled waters
Of my spirit. You sleep beside me
As I write, wrapped in the simple goodness
of your being.
I wonder what you are dreaming?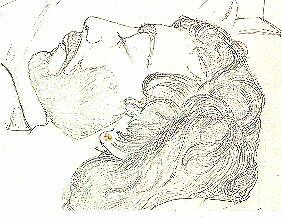 Alternate futures stretch before us:
Some I have imagined, projecting our happiness
into eternity.
I do not discount the unimaginable,
And truth is always stranger than fiction
Or dream.....
.....And you or I could die tomorrow,
Leaving a vast grey emptiness
Where now there is light and love and laughter.
Many things there are that could divide us,
And there is always the possibility
That we have made a mistake -
Though I do not believe it.
Thirteen years of waiting reach fulfilment
In our trust and tenderness.
No short lived passion.
My delight in you, beloved,
Is beyond speaking. I flourish in your light
And at your touch grow young again.
Against all odds, this re-found treasure, and the awe
of new beginnings.
The happiness within me grows quietly,
A light to balance the dreary days and frustrations
Of the outer world, its restrictions and limitations,
The grinding daily task
And its occasional glaring pointlessness.
Its lacks and losses fade away when we walk together
Sharing colour afresh and laughing in the joy
of joint discoveries.
Once, long ago, before I knew the meaning of the word,
I told you that I loved you.
Now, a little less than half a lifetime later,
After flood and fire, betrayal, loss and torment,
Wiser and expecting nothing,
Startled by joy unasked and unlooked for, and full of wonder still,
I watch you sleep as jasmine once more scents the air,
And must tell you,
Now that I know its precious meaning,
That I love you.
With all my soul.
&copy 1998 (1989) Joules
(First published X-CALIBRE Vol VII, 1990)
To Us
If you were a town
I would paint you red:
If you were a crown
I'd set you on my head.
If you were a stream
I'd trace your fountainhead: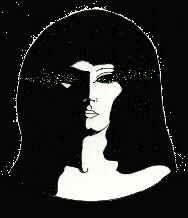 If you were a dream
I'd sleep well in your bed.
If you were a tree
I'd climb you to the light:
If you were the sea
I'd swim in you tonight.
If you were afraid
I'd free you from your blues:
But you're not man made
So I will let you choose.......
But if you were mine
I'd own to the truth:
That if you were wine
I'd drink to our youth.
&copy 1988 Ken Taylor.
(First published in EXE-CALIBRE Vol IV, 1988.)
(Illustration: Self Portrait(4) by Joules Taylor.)
---
&copy 1999 WordWrights.