A Most Haunting Castle
Ken Taylor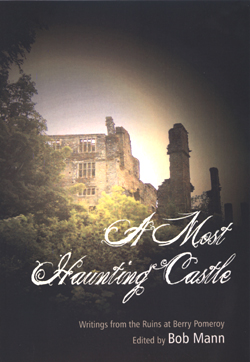 114 pages paperback
207 x 144 x 13mm
March 2012
Longmarsh Press
ISBN 978-0-9561705-2-1



The isolated ruins of Berry Pomeroy Castle nestle deep in the Devon countryside, and their brooding presence exerts a powerful influence on anyone who sees them. The site has become a popular tourist attraction, and makes a fascinating study for anyone with an interest in history, but the castle's main claim to fame is its long association with the supernatural.

This new anthology of poetry and prose is ably edited by local author Bob Mann whose respect for and love of the site makes a positive contribution to this no-holds-barred celebration of the castle in all its aspects - ranging from romantic to gruesome. His discursive introduction strikes an entertaining balance of fact and conjecture, and provides everything the reader needs to know to get the most out of the stories and verse that follow.

Many of the tales explore the timeless themes of human passion and pain immortalised in the traditional ghost stories that abound at this picturesque yet undeniably eerie ruin. Some tell of horror and macabre revelation, others are whimsical and full of charm, and a few are playful bordering on precocious, yet all are captivating. Ken's contribution is a four-page poem entitled A Spirit Journey.

Other poems and stories include:
Helen Ashley

Remains

Valerie Belsey

A mason's mark

Peter Cowlam

Follow me down

Pamela Sandry Gorman

Berry Pomeroy Castle
The White Lady

Laurence Green

Ellie and Mags

Deborah Harvey

Berry Pomeroy

Sue Hinds

The lost moat
A sonnet to Berry Pomeroy Castle

Idris W Izzard

The way back

Anna Lunk

The White Lady's tale

Bob Mann

Peril in Denim
The story of a vision and a disappearance

Debbie Miller-Wright

Berry Pomeroy - the thoughts of a witch

Wendy Ruocco

Do you see what I see?
A tale of Berry Pomeroy

Catherine Smith

Pomeroy's Leap

Susan Taylor

The white roses of Berry Pomeroy

Simon Willians

Guardroom, Berry Pomeroy Castle
St Margaret's Tower, Berry Pomeroy


This selection deftly represents the castle's many moods, and like the castle itself, is something to relish not once, but to revisit time and again.
---
This book is available to buy at Verbank Library

Information about Verbank Library here.
---
Text & design &copy Ken & Joules Taylor 2012 - 2013