Prehistoric Hill Settlement Capton
Kenneth J Taylor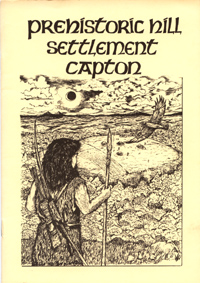 Published by Prehistoric Hill Settlement Museum
Published 1986
Booklet 217mm x 151mm
Illustrated (b&w), 22 pages
Notes on the history of the village of Capton, Devon
When the owner of a Capton vineyard found hundreds of prehistoric flint tools and a wide range of other artefacts including a gold Romano-British brooch, he was inspired to build a museum on the site. The exhibits and displays were complemented by a full scale round house or hut from the New Stone Age complete with a sound and light show evocative of life 4,000 years ago. The booklet was commissioned as a guidebook to accompany this popular tourist attraction.

Whilst concentrating on the Neolithic and Iron Age periods, the story of this site begins with an overview of its geology, and includes the rise and fall of the ice sheets and the first human occupation in the area. A selection of key events in the village are chronicled up until Tudor times.

The book concludes with a look at some evidence for suspected archaeoastronomical alignments in the landscape around Capton. This was expanded in a companion leaflet Archaeoastronomy 2,000 BC, the findings of which have been revisited and revised twenty years later by the author in Dartmouth Ghosts & Mysteries.
---
Text &copy Ken Taylor 2006-2013